My Ride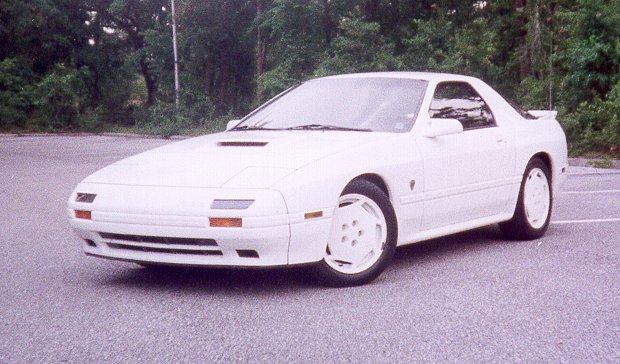 1988 Mazda RX-7 10th Anniversary TurboII, JM1FC3321J0622799
What can I say? This is my baby. I purchased her exactly 1 week after the wreck in the old car. Got it for $5700 from a lawyer here in Pensacola - he's the original owner. Do I love it? Hell yeah!!!!
It's picture time!
The Rev-Speed Meter. This is stuck to the upper corner of the windshield with double-sided tape. Doesn't look bad from outside the car, and it's really easy to see and use in the car.
Overview of the engine bay. Lotsa red, white, and black! It's kinda dirty here - still haven't cleaned it up since the turbo install.
Driver's side of the engine bay - you can see the AIC amplifier box, and the Magnecor wires.
Top of the motor - you can see the additional injectors, the blowoff valve, and the upper intercooler pipe.
IC Pipes - this is next to the radiator. It's kinda hard to see, but they are both "stacked" on top of each other, running between the frame rail and the radiator to the front of the car
The battery box - place to put the stickers :)
MSD 6A ignition amplifier - it's under the drivers's side headlight, on top of the brake duct.
The downpipe - it's heat wrapped, and I've got various types of heat wrap around the oil, water, and AC lines there.
Cone intake - right now, it's a generic one until I get the Apex'i. Notice the heat shield - that's from a heat blanket for a barbeque smoker! Works well.
Fuel pressure regulator - look carefully, it's in there. There's a fuel pressure gauge screwed into it -came with the FPR. Works great!
Broadway rearview mirror - the thing RULES. It's much clearer and larger than the stock mirror - really makes a difference!
And, last but not least, my $500 '87 base smoke show car! It will be getting its motor taken care of soon!
Right now, the car is putting down some MAJOR power - 0-60 in 4.7 seconds! So, what do I have done to it? Here ya go....
Engine-
Street ported
Comp oil seal springs
FD corner seal springs
Intake
Generic cone (soon to be replaced)
HKS airflow meter adapter
3" inlet duct
Aluminized heat shield
Turbo
60-1 Hi-Fi, .81 turbine housing
Water cooled center section
HKS cast T04 manifold
Braided oil and water lines
Cartech wastegate (5psi spring)
HKS EVC I with Scramble Boost Controller
Intercooler
Cartech front-mount
Greddy blowoff valve
Throttle body
Secondaries removed, thermowax removed
Jap-spec primary throttle stop
Aerodynamic porting
'89-91 throttle body cap
Exhaust
Custom 3" downpipe, midpipe
Wrapped downpipe
Apex N1 cat-back
Igntion
MSD 6A CDI box
Magnecor wires
NGK BUR9EQP plugs leading/trailing
Fuel
Walbro fuel pump (rewired)
2 550cc additional injectors
Extreme Motorsports fuel pressure regulator
HKS FCON w/ upgraded turbo chip
Apex Super-AFC tied into FCON
HKS AIC I
Brakes
Racing Beat stainless braided brake lines
Bonez pads
Castrol LMA brake fluid
Suspension
Koni adjustable shocks (80% front, 60% rear)
Suspension Techniques linear springs
Racing Beat swaybars, front and rear
Dunlop Sp8000 tires on stock rims (225/50/16)
Drivetrain
Centerforce pressure plate
Stock 3rd gen clutch disc
Redline MT90 in gearbox
Redline 75w90 in rear end
Rotary Performance braided clutch line
Removed
Metal vacuum spider
Stock intercooler bracket
All solenoids
Air bypass solenoid valve
Air pump
Air control valve
EGR valve
Headlight washer tank
Windshield washer tank
Accessories
Greddy turbo timer
Apex EL-series 60mm PSI boost gauge
GReddy 52mm EGT, white face
Intellitronix air/fuel gauge
Dual a-pillar pod
Broadway 320mm rearview mirror (flat)
Razo leather shift knob
Air horns
Pep Boys pedal covers
Clear front turn signals
H4 bulb-compatible headlight housings
Generic ion blue H4 bulbs, 85/100 watt
Quick release battery terminals
Apex rev-speed meter
Glass breakage sensors for stock security system (added)
Stereo
Sony tape deck
Sony 10-disc changer
Soundstream Reference 200 amp
MB Quart 4" coax in front dash location
Eclipse 5 ¼ in door location
Infinity Kappa 6.5" in rear shock towers